WELCOME TO OUR GARDENS!
It was not long ago that our ancestors relied on the local lands and village homestead for sustenance, commerce, and celebration. In our gardens, it is our privilege to integrate heritage and community with modern convenience.  Our passion is nature, good neighbors and friends, and great food!  We only use organic practices, heirloom seed stock, and natural techniques in our gardens, focusing on and working with nature as opposed to against it.
"Nature does nothing uselessly".  ~Aristotle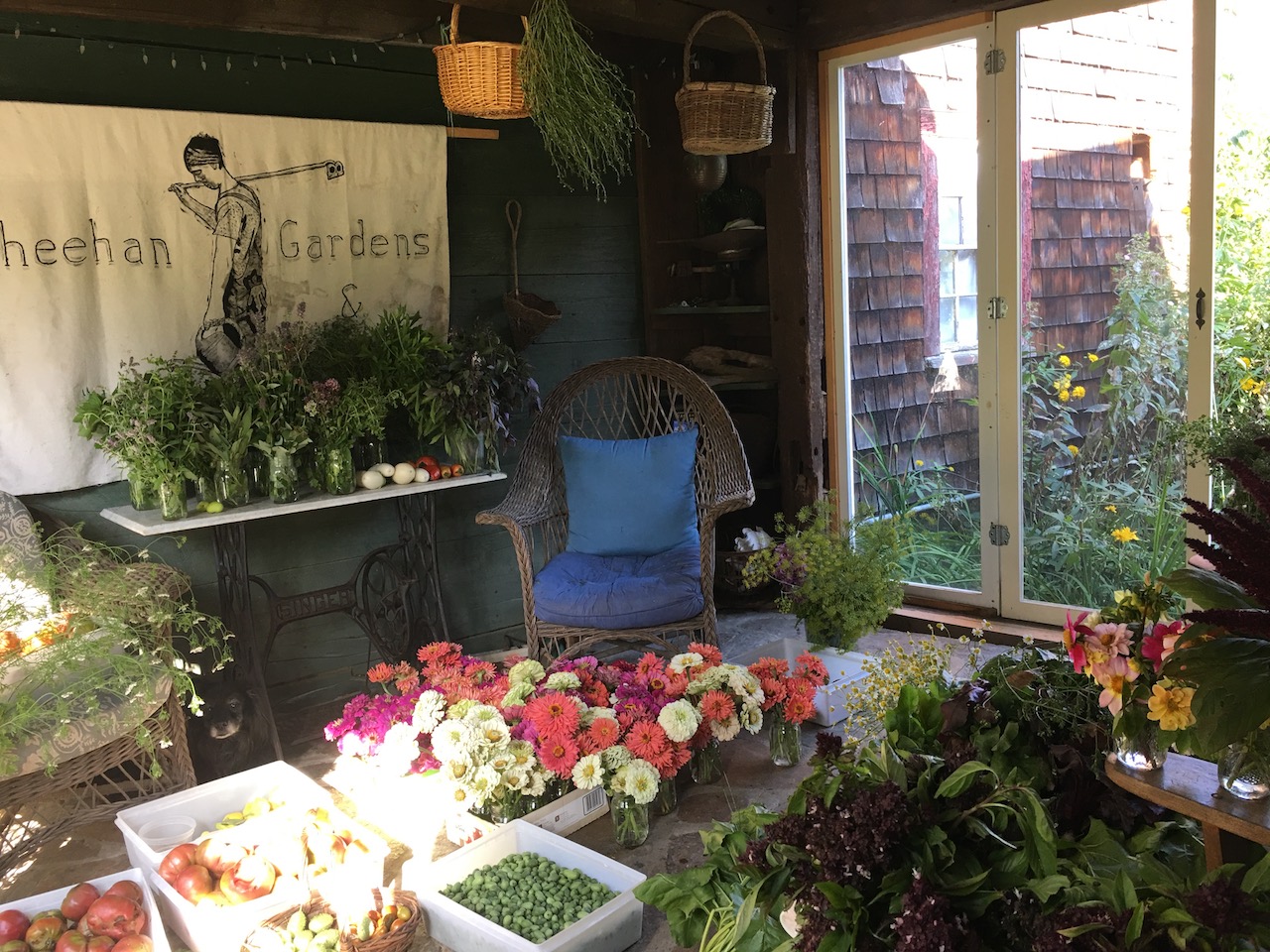 Our gardens and homesteading practices comes from the natural resources of our beautiful lands, shared meals, and the growing interest for top-notch, healthy, local food sources. In our gardens, health, vigor, compatibility, and quality take the forefront. Always.
Mission
It was an organic progression to one day be able to use our own fresh ingredients, showcase other locally raised goods, and share with like-minded enthusiasts, individuals, creative chefs, and food lovers alike. This helps us reach new passionate, talented, and community aware participants willing to engage and be a part of a new heritage rebirth that takes into account the overall well-being of our diets, the land we use and cultivate, and our diversity of taste.
                    Heirloom
We only use non-gmo heirloom seed stock to germinate and grow our seasonal crops, saving and storing seeds for health and production in subsequent years. Specializing in rare and unique varieties, we strive to re-introduce historical heirlooms, strengthen their genetic culture, and in the process build a nutritive and bio diverse soil base, in order to offer a wide array of plants and produce rich in flavor, distinction, and versatility. 
                    Soil
Working and developing the soils in  our gardens is THE crucial component to the success and health of our produce and land. By providing the building blocks  and nutrients to feed and nourish the multitude of micro-organisms, bacteria, mycorrhiza, insects, fungals, and all other plethora of bio-organisms needed for a healthy soil, it not only ensures the quality of this year's harvest, but guarantees a rich, productive soil for future seasons.
                       No- Till
Many of our plants are grown in raised beds using no-till methods which, unlike tilling, prevents the beneficial nutrients from being turned up to the  surface, where they dry up, compact, and wash away. This then requires artificial, synthetic fertilizers, that don't absorb into the root zone and get washed away, ending up in our streams, lakes, and rivers. By not tilling, and amending the soil with cover crops, compost, rotational crops, and annual mulching, it allows the soil to maintain its complex integrity, moisture, and diverse biological structure. 
                  Permaculture
Another method in our gardens is the practice of permaculture. By  growing different plants close together in the same bed or row, complexity and diversity is added to the soil structure,  beneficial insects and pollinators are encouraged, and an  aesthetically pleasing natural scape is created without compromising health or yield.
                        Diversity
By working several small plots, separated by a couple of miles, we are allowed to grow isolated crops for seed production and preservation, keeping our heritage alive and continuing  to build and re-invigorate our surrounding soils. 
A truly unique dining experience.
Interested in the homesteading lifestyle, organic growing practices, and good local food? It is with pleasure that we offer our "Evening in the Garden" dinner series. Grab a seat at our extended family table in an intimate garden setting,  learn a bit about the homestead, meet new friends, and enjoy fine dining prepared with local ingredients. Our featured chef will take you on a personalized exploration of our gardens.
Seating is very limited and reservations are required.
Looking for an intimate venue for a special anniversary, birthday party, or date night? Or interested in hosting a family reunion in the gardens? Let us know what you're thinking, we look forward to hearing from you.
For more information on private dining or to sign up for an "Evening in the Garden" dinner, use the contact form below.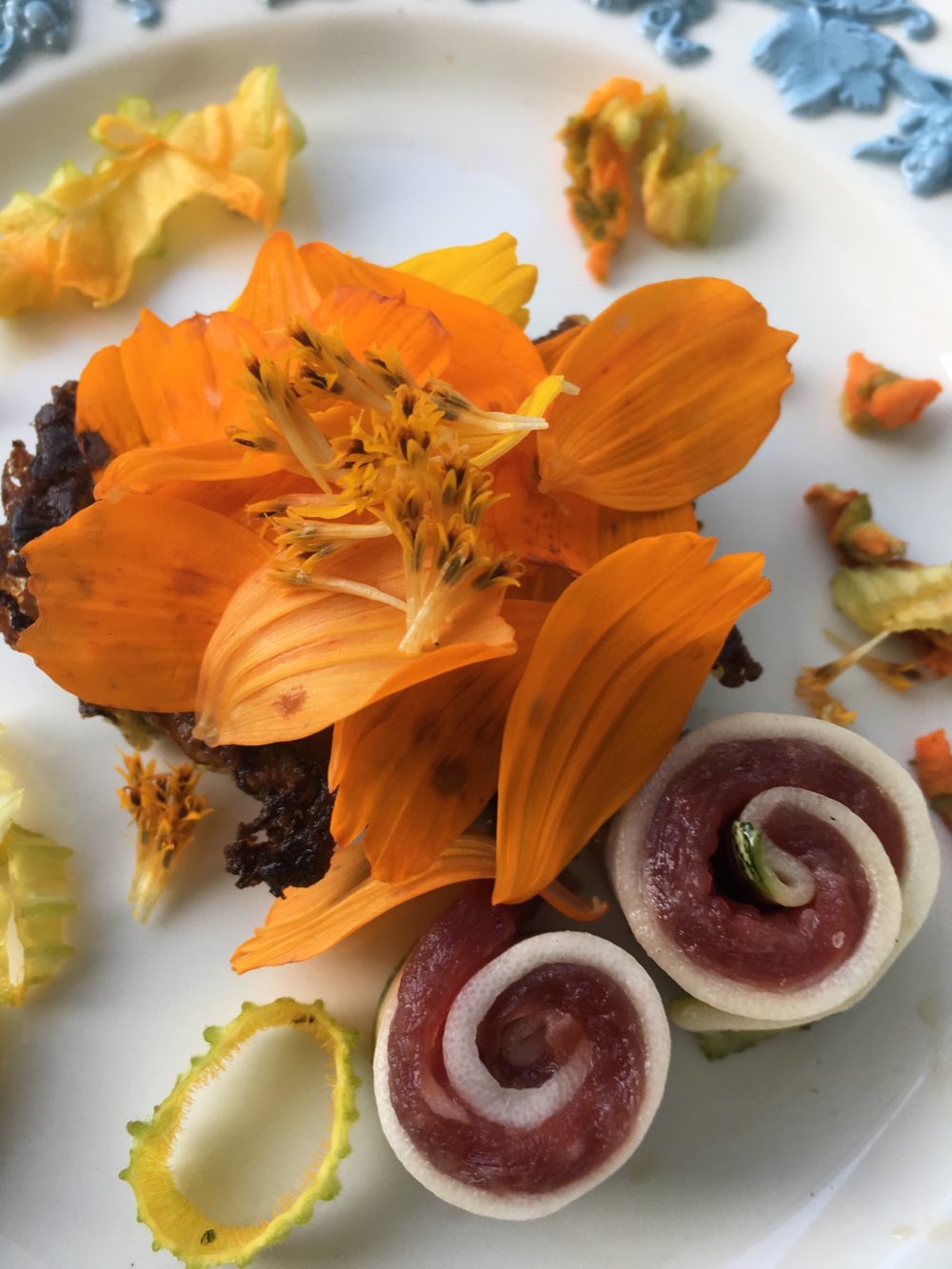 We had the pleasure to attend one of the first "Dinner in the Garden" experiences at Sheehan Gardens & Homestead. We heard about this through Chef Sessler of Cava in Portsmouth, and were delighted to be able to enjoy his cooking in an intimate, beautiful outdoor setting. We were made to feel so welcome during our entire visit, and had an opportunity to get a close look at their land and learn about what they grow. It was wonderful to learn more about some of the food we would be eating that evening, and to hear Chef Sessler discuss each of the dishes we enjoyed. I really can't say enough good things about this true "farm to table" experience.
Sheehan has always had a passionate interest in the arts. Starting with hobby gardens and having over a decade of experience working in restaurants, catering, and private settings, both on and off the homestead, has led to the development of his gardens and culinary appreciation.  Having an artistic eye allows the gardens to flourish every year and motivates him to continually improve his work with the the natural beauty of the land and food. 
Chef Gracie's first job was in a local produce market where she was surrounded by the fruits and vegetables she loved. She soon  got her start in the restaurant world and worked her way up from there. Having a diverse experience in fine dining, catering, high volume services, and work as a private chef on yachts and in private homes, her culinary experience increases with her love of food and truly shines when working with produce from the gardens.
Swing by to see what's growing!
11 Carleton Road
Milton, NH
03851
sheehan@sheehangardens.com
chefgracie@sheehangardens.com
We'd love to hear from you. Come see us in the gardens!